In the early 1950s, Technion administration decided to develop the existing science departments beyond their status at the time. They were no longer merely to teach the minimum science requirements to engineering students, but henceforth were also to conduct teaching and research activities in the sciences. In 1954, David Ginsburg was entrusted with the task of developing the Division of Chemistry at the Technion, where a small number of people were already conducting research in physical and analytical chemistry. Following a consolidation period, the science departments at the Technion, including Chemistry, Mathematics and Physics, were given faculty status in 1962. The English name, in line with western usage, continued to be Department of Chemistry. In 1964, the Faculty moved into the complex that it now occupies, comprised of the Bernstein, Canada and Compton buildings. In 2006 the faculty was renamed as the Schulich Faculty of chemistry, following a vary generous donation from the Canadian philantropist Seymour Schulich.
Today, the Schulich Faculty of Chemistry is a very active and energetic academic unit. With 26 faculty members and about 150 graduate students and post-doctoral fellows, the Faculty exhibits the highest ratio of graduate students/faculty at the Technion.
The Faculty's research and teaching programs span the full spectrum of disciplines within the chemical sciences, including physical, analytical, inorganic, organic, biochemical and theoretical fields, and maintain strong collaborations with the associated sciences of physics, materials science, biology, biotechnology, nanotechnology and medicine.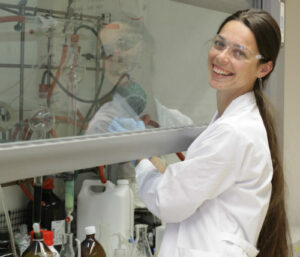 State-of-the-art research is a vital part of our academic life. In addition to advancing science and technology, it is a vital tool in the education of our undergraduate and graduate students. Our research program opens wide horizons for those young women and men, enabling them to take part in cutting-edge science, enter new promising fields, and apply hands-on some of the most sophisticated scientific instrumentation available anywhere today.
More than 2630 students have graduated from the Faculty of Chemistry, including more than 1691 bachelors, 543 masters and 398 doctors. To date, many of the Faculty's alumni hold leading positions in Israeli industry including its high-tech and defense sectors, universities and other educational institutions, as well as in various governmental and public research organizations.
Memoirs and Biographies
In 2008,   we celebrated the 60th anniversary of the establishment of the State of Israel. This celebration also recognizes Israel's unique achievements in scientific discoveries, which were the direct result of the research activity of world-class motivated researchers who came from completely diverse origins.
In this regard, the Schulich Faculty of Chemistry at the Technion–Israel Institute of Technology can be seen as the microcosm of the State of Israel.
Since its inception, the Department of Chemistry, through its members, was motivated to create and nurture a lively, vibrant and successful research atmosphere.
To honor those pioneers who shaped our future, I took it upon myself to edit this book and to bring together, in a single volume, these very touching biographies, including in some cases, a short description of their academic careers. I didn't change a word of what you are going to read. Some biographies are still missing and I do hope that a second edition will appear in the not too distant future.
Finally, I would like to express my sincere and deepest gratitude to all our Professors Emeriti who agreed to write their biographies as well as to Shimona Ginsburg, Ruth Ben-Ishai and Wanda Folman, Dorit Ringart, Orna Kohavi, Ari Folman, Alon Hoffman, Yafa Kosirowski, Aviva Lubetzky who wrote about the late David Ginsburg, Dov Ben-Ishai and Mordecai Folman respectively and Sabine Cioara for her constant and precious help.
Ilan Marek
Schulich Faculty of Chemistry Technion-Israel Institute of Technology July 2008
Since the publication of the first edition in July 2008, new chapters are constantly added by new Emeritus Professors.
Memoirs and Biographies part 1